Statutory rape is sexual contact with a minor, usually a person under 18 years of age. A person under 16 or 18 is legally considered to be incapable of giving consent to sexual intercourse. About half the states consider the age of 16 to be the age of consent.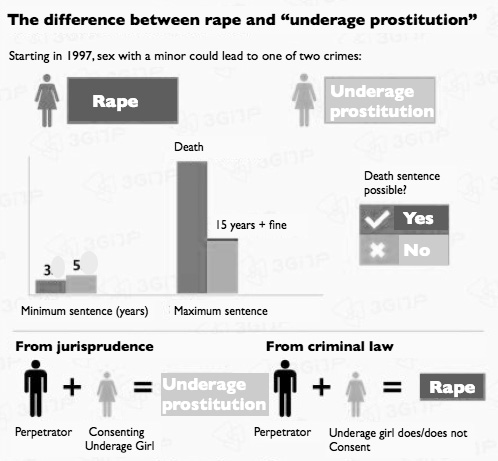 Unlike the usual law of rape, there is no requirement that force be used to coerce the minor to have sex; it is only the age of the individual that is of any consequence.
ELEMENTS OF STATUTORY RAPE
A couple engaged in sexual intercourse or penetration
The people involved were not married to each other
The victim was under the state's age for consent at the time of the offense
Some states will charge the accused with only a misdemeanor or minimum jail time if the victim was close to the age of consent and the accused was the same age or only a few years older than the victim, depending on the state's law. The sentences increase as the disparity in the ages between the victim and the defendant widen.
Many states also have special circumstance laws where sentences are increased if the accused is in a position of authority, such as a teacher or athletic coach.
DEFENSES
Consent is no defense in a statutory rape charge. Defenses that be used include:
Statements by the victim that she was of consensual age and you reasonably believed it
The victim's demeanor, dress, and emotional profile led you to reasonably believe the victim was old enough to give consent
PENALTIES
The states vary widely in how defendants are charged and the amount of prison time imposed. Most laws depend on whether the victim was under 16, or under 12, at the time of the offense. For example, the state of Connecticut imposes a prison sentence of 10 to 25 years with a 5-year mandatory minimum sentence if the victim is under 13 and the accused more than 2 years older. Idaho imposes anywhere from one year to life in prison if the victim is under 18.
California, though, imposes a maximum of 2, 3, or 4 years if the accused is 21 or older and the minor under 16. The defendant can also be charged with a misdemeanor, rather than a felony, under these circumstances and face only up to one year in jail.
If you are charged with statutory rape, you could face substantial prison time depending on your state's laws, your age and the age of the victim. Your liberty and future are at considerable risk. Contact the law office of James Silverstein, a skilled and knowledgable criminal defense attorney, who has successfully handled cases like yours.